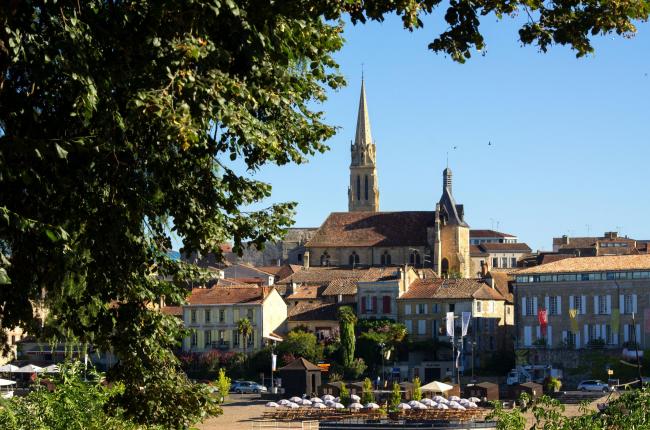 Your vacations in the Dordogne and in the Green Perigord
Visits and Discoveries in the Green Perigord in the South West of France
Located in the South West of France, in the North of the Dordogne, the Green Perigord, country of the Nontronnais and the Dronne Valley, with its Natural Park Périgord-Limousin, constitutes a true green hilly case and furrowed by a multitude of brooks appreciated by the trout fishermen.
During your stay in the Périgord, many outdoor activities are also available such as hiking, mountain biking, go-karting, canoeing/kayaking, etc.
In the vast forests of chestnut trees, you can still see the huts of the hardwood workers who cut the branches of the chestnut tree into thin strips for the preparation of mushroom baskets.
The Bandiat, the high valleys of the Isle and the Auvézère, cross this country which extends from Lanouaille to La Roche-Chalais while passing by St-Aulaye, Nontron (capital of the knife, the green Périgord was famous for its forges), Brantôme, Bourdeilles, Montpon-Ménestérol and Ribérac. It is the country of a neat polyculture with a clearly dominant orientation for the breeding.
Among the remarkable tourist sites of the Périgord Vert, Brantôme and its abbey, Bourdeilles and its two castles, one feudal, the other renaissance, the decorated cave of Villars, the castle of Puyguilhem. Find the different castles of the Dordogne and enjoy instructive visits.
You will also be able to contemplate fabulous natural sites such as caves, chasms and troglodyte routes.
Outdoor gastronomic activities in the Périgord in Aquitaine
Visits to the vineyards of the South West
Pomerol, Montagne Saint Emillion, Puisseguin, Lalande, Lussac, the Côtes de Castillon and not forgetting the village of Saint Émilion which should not be missed.
Visits of the producers of the Périgord
The foie gras, the truffles, the strawberries of Périgord…